This page presents the Summary of Data on Political & Electoral Violence in Mexico, 2020-2021
This document is part of the Elections & Violence in Mexico Project
The data production is coordinated by María Teresa Martínez Trujillo
Click here to read our Full Policy Report on Data on Political & Electoral Violence in Mexico, 2020-2021
Click here to go back to the Project's main page
What does the data say about the political and electoral violence in Mexico from 2020-2021?
During the 9-month duration of the process, 101 politicians were murdered, 35 of whom were candidates or pre-candidates for elected positions, according to data we collected (Noria MXAC Database on registered political and electoral violence in Mexico, 2021).
In addition to these homicides, there were 157 violent incidents, including threats, attacks, injuries and enforced disappearances.
In fact, 4 candidates were victims of enforced disappearances, of whom, to the closing date on our database, 1 was found alive, 1 was found dead, and there is a lack of clear information about what happened to the other two.
In total, there were:
258 incidences of political violence during the electoral process, covering 27 of the 32 states in Mexico.
Veracruz, Oaxaca, Puebla, Guerrero and Michoacán were the states with the highest number of cases, totaling 47% of all incidents.
29% of these incidents (75 cases) occurred on roads and highways, while another 35 cases took place on the victims' private property (home or office).
67% of incidents of political and electoral violence took place between March and June 2021, the final stage of the electoral campaign.
Mayoral figures (candidates, pre-candidates, serving mayors, ex-mayors, or ex-mayoral candidates) were the group that was most attacked, representing 55% of total incidents.
74% of victims of electoral violence were members of the opposition party in their respective towns and cities.
It was observed that territories governed by Morena recorded the highest number of incidents – 75 out of the total of 258 – 74 of which were attacks against local politicians and one against a state politician.
Areas governed by the PRI were ranked second – with 64 out of the total of 258 – 9 of which were against state political actors and the rest (55) were against local politicians.
In terms of those allegedly responsible:
43.8% of total incidents were attributed to armed, groups, armed men, or armed commandos.
Only 15.9% were directly attributed to organized crime or narcos.
It is important to highlight the fact that 16.7% of incidents were carried out by unknown perpetrators.
Incidences registered during the entire electoral process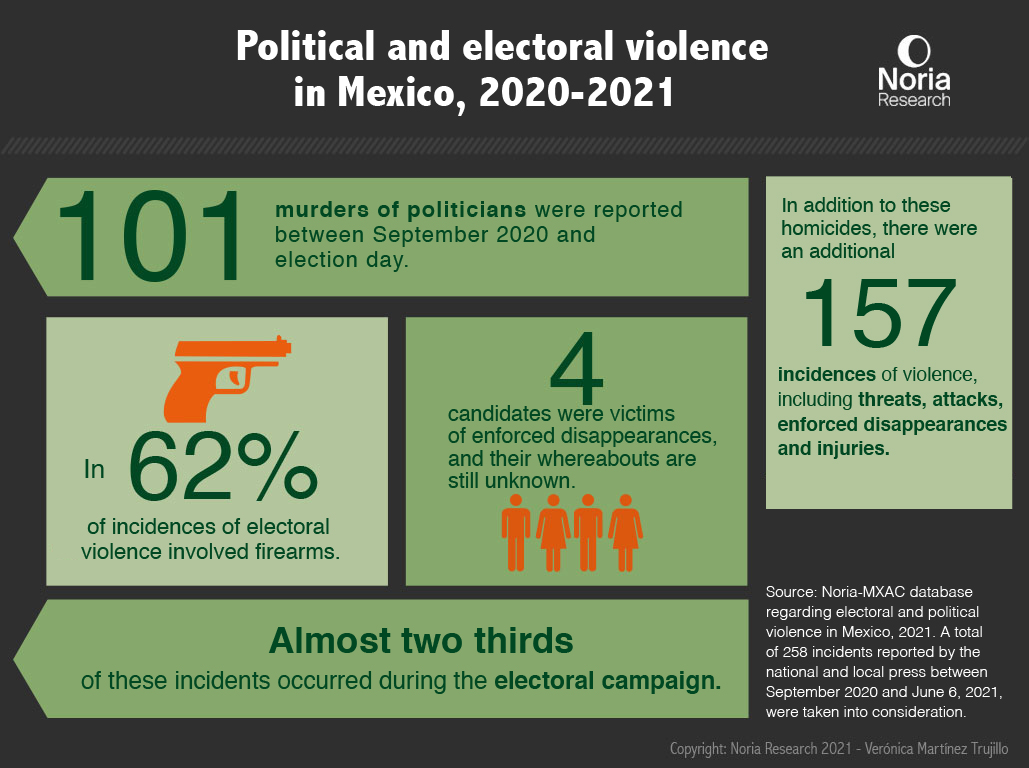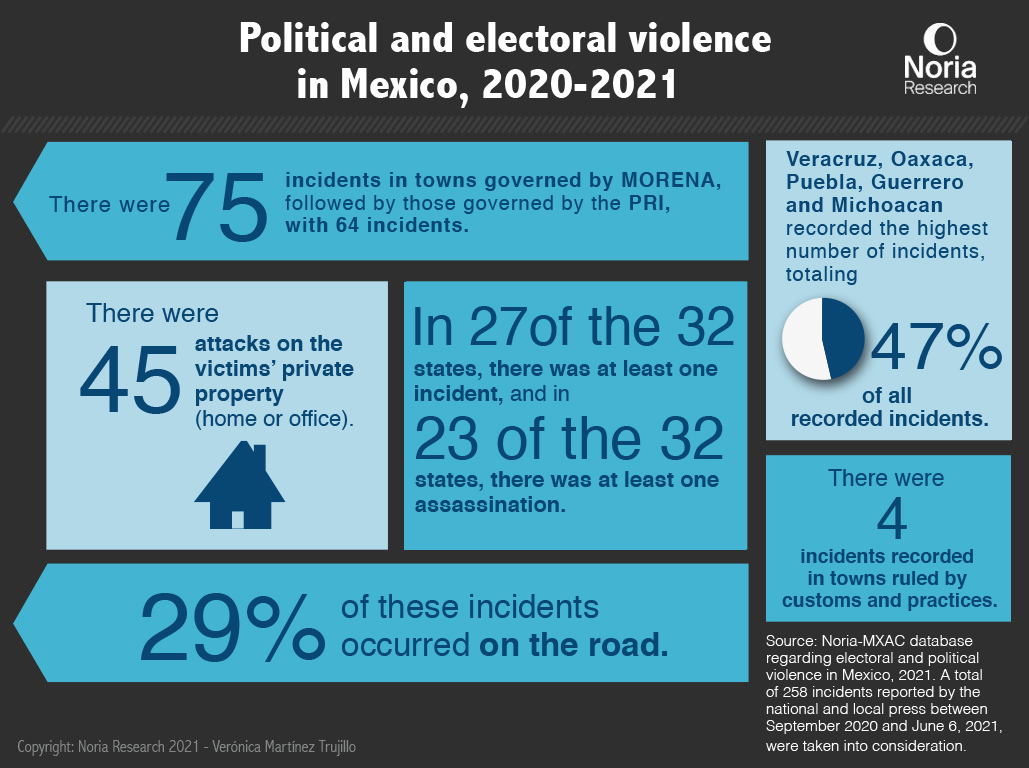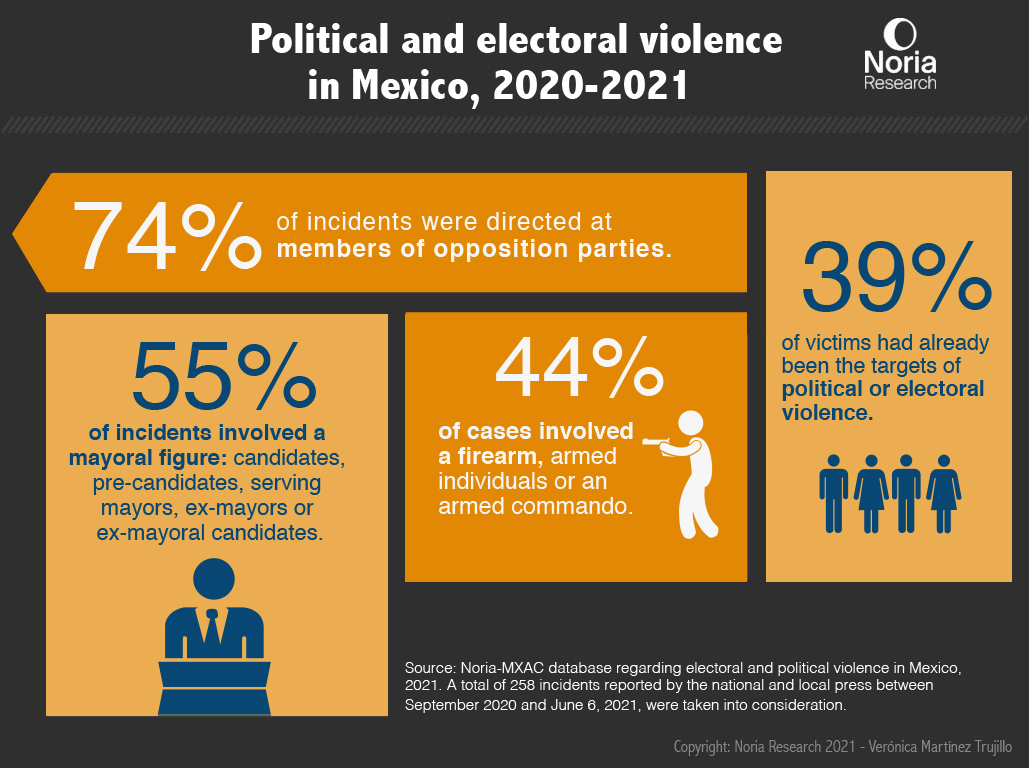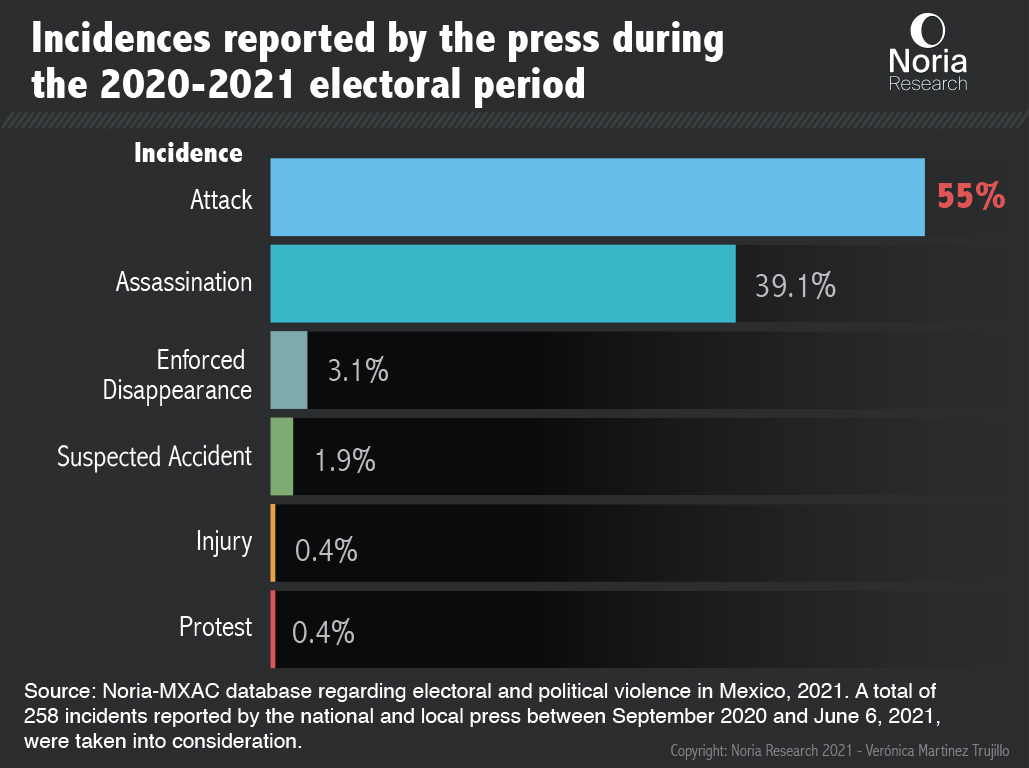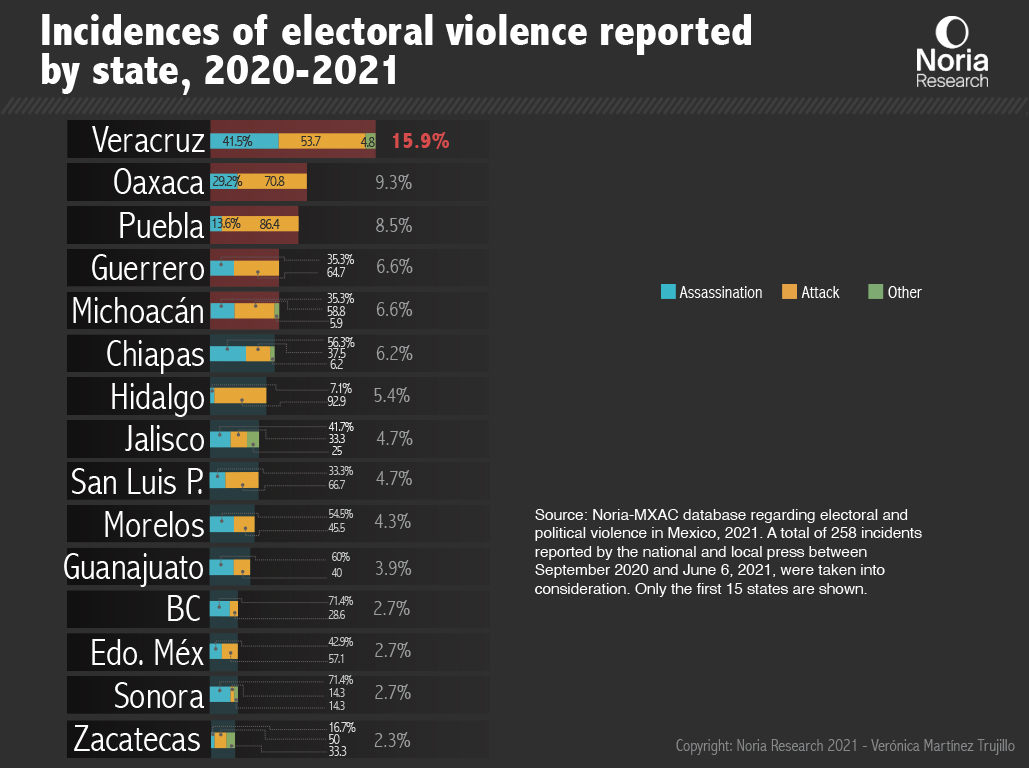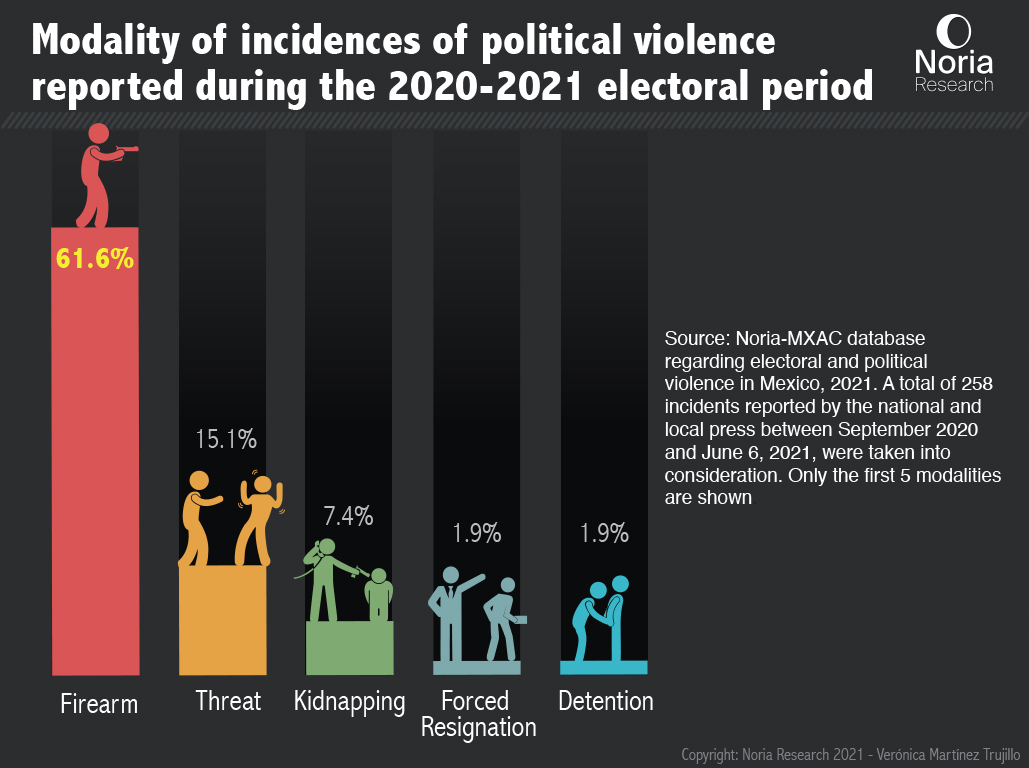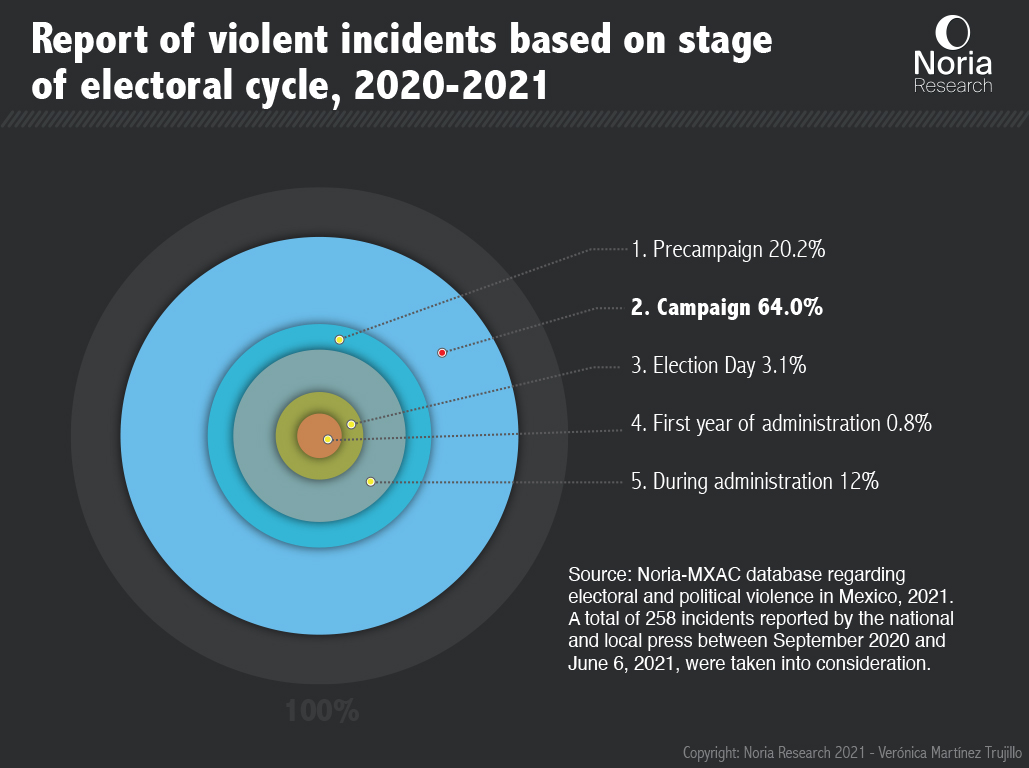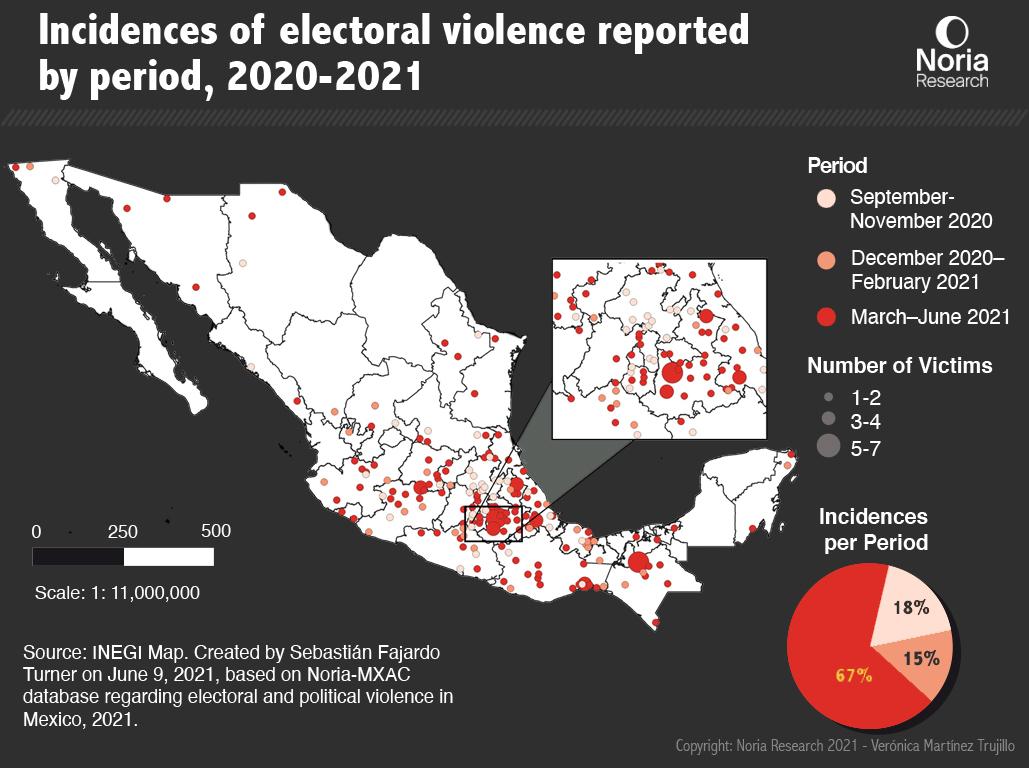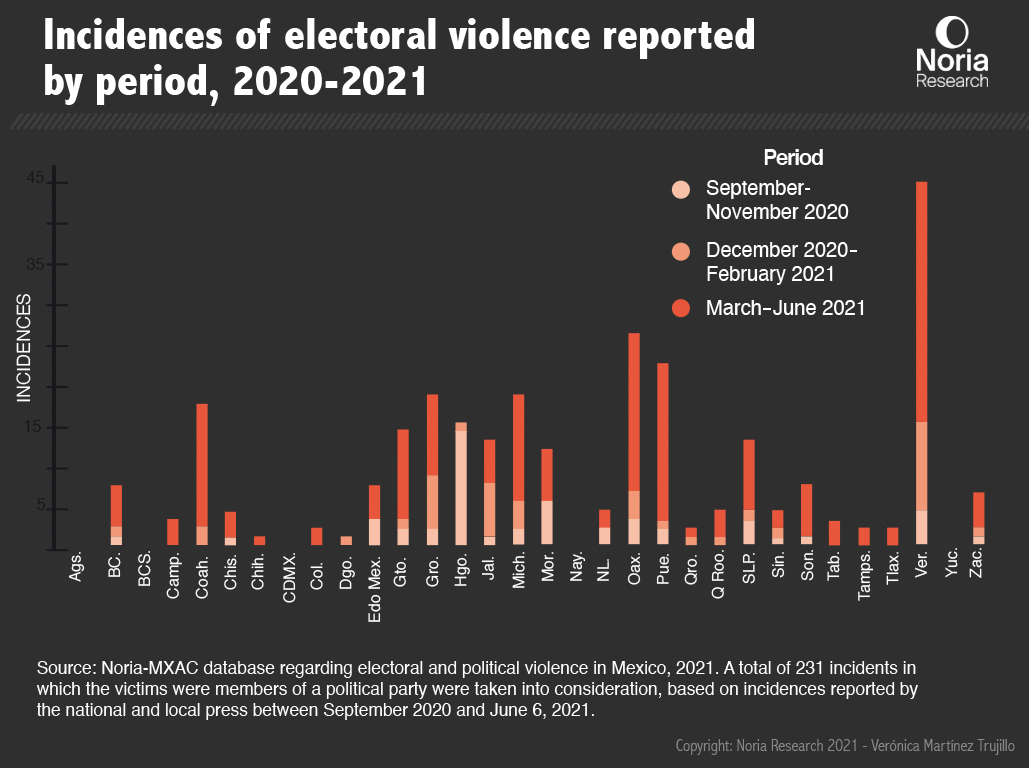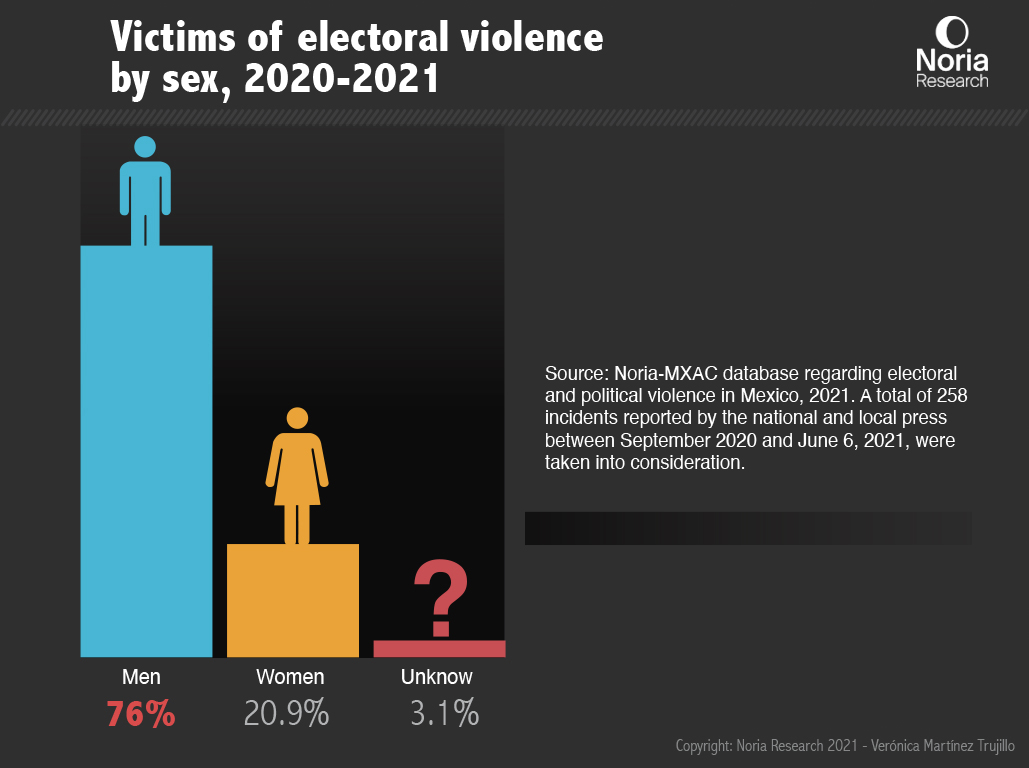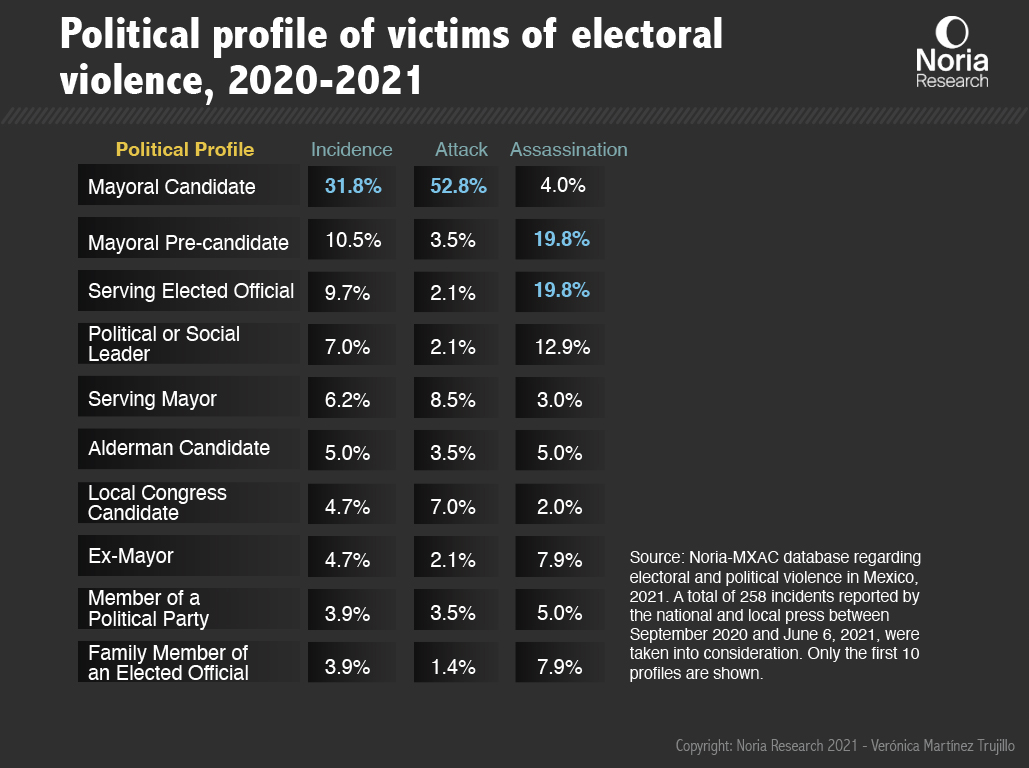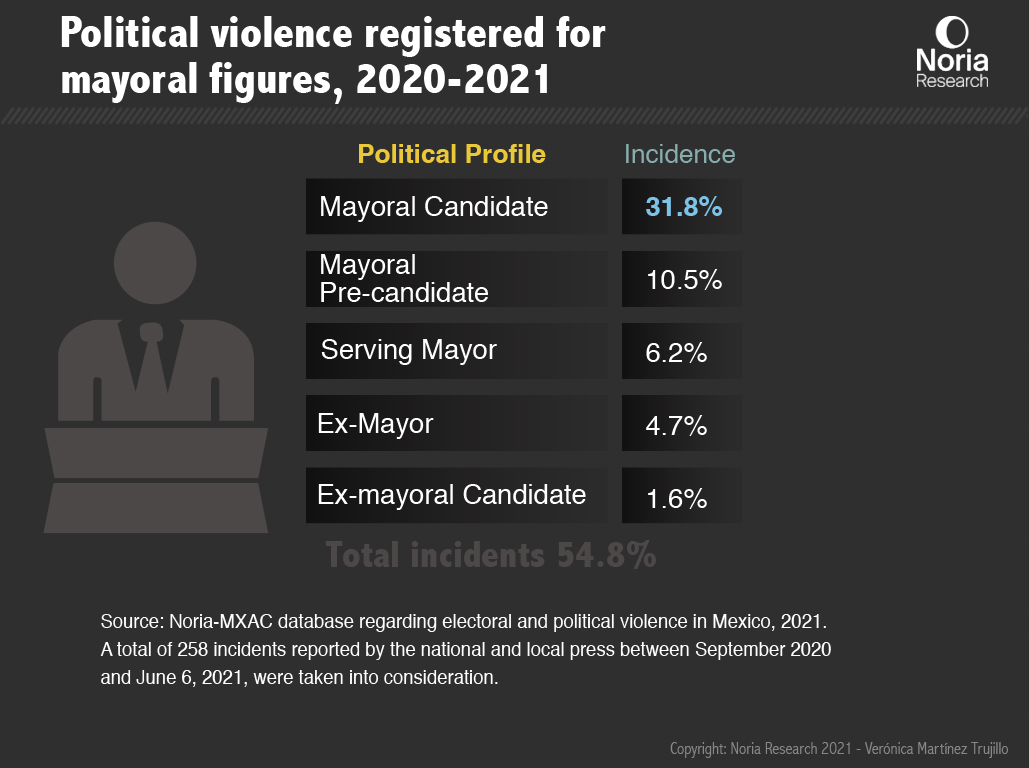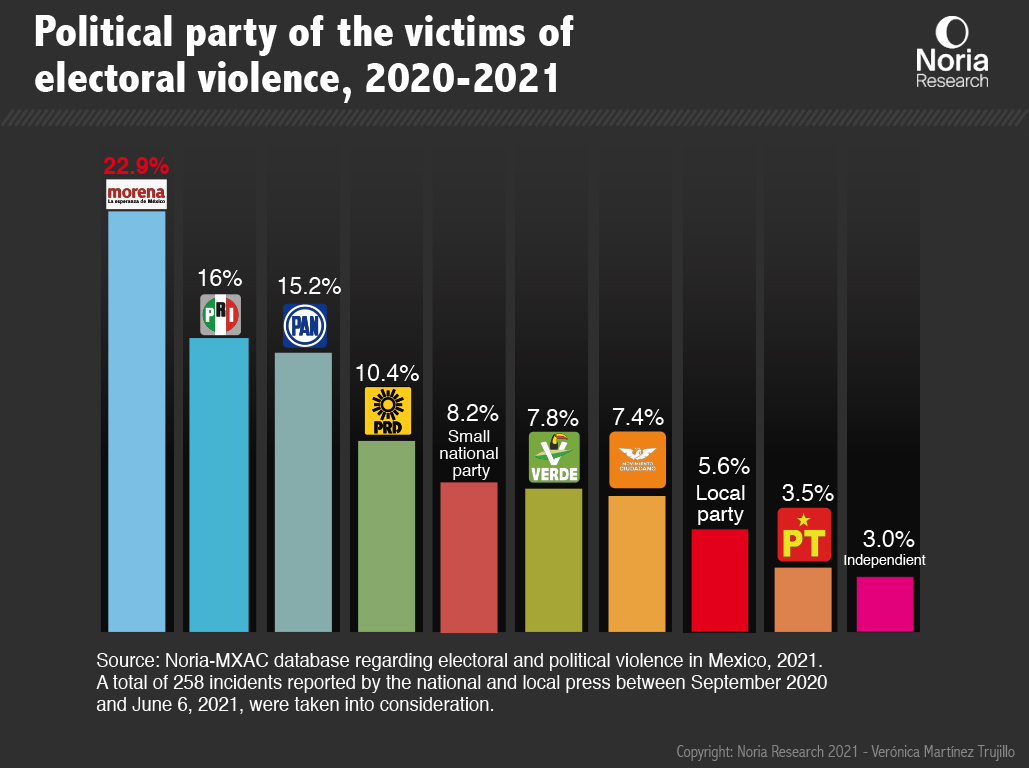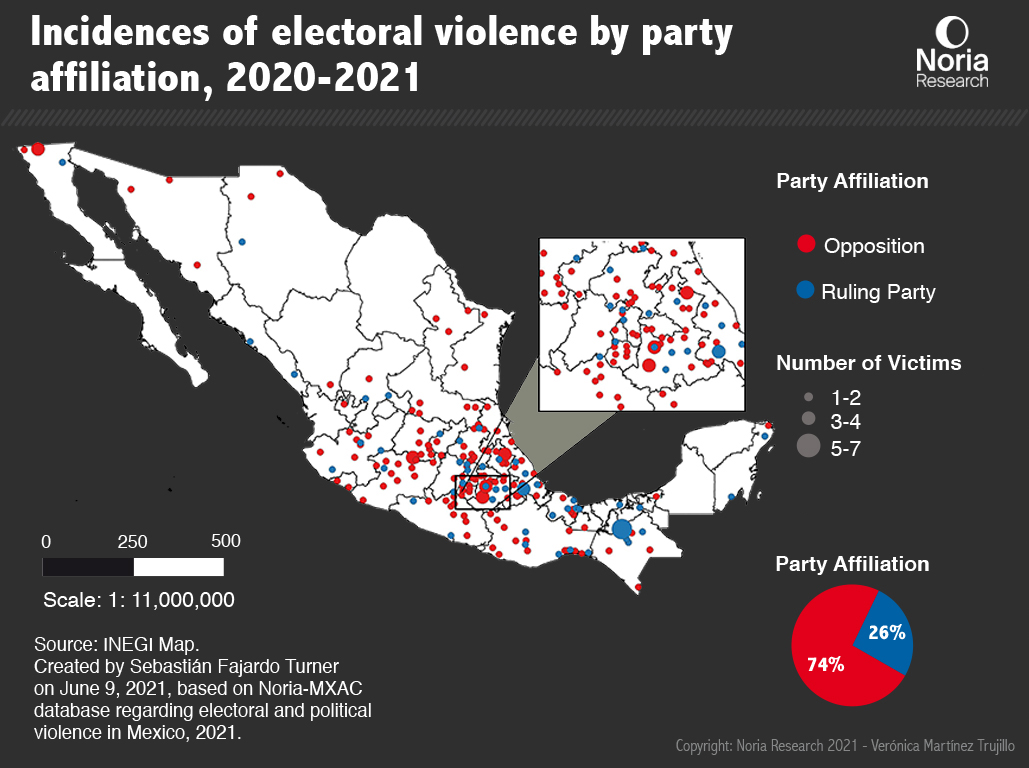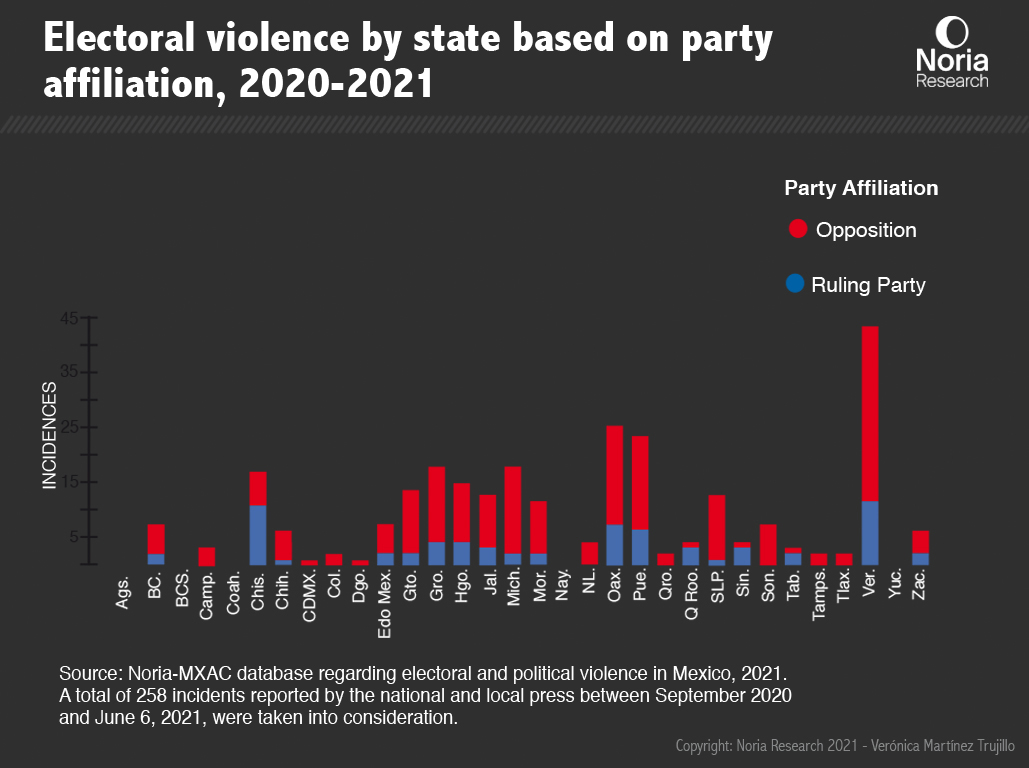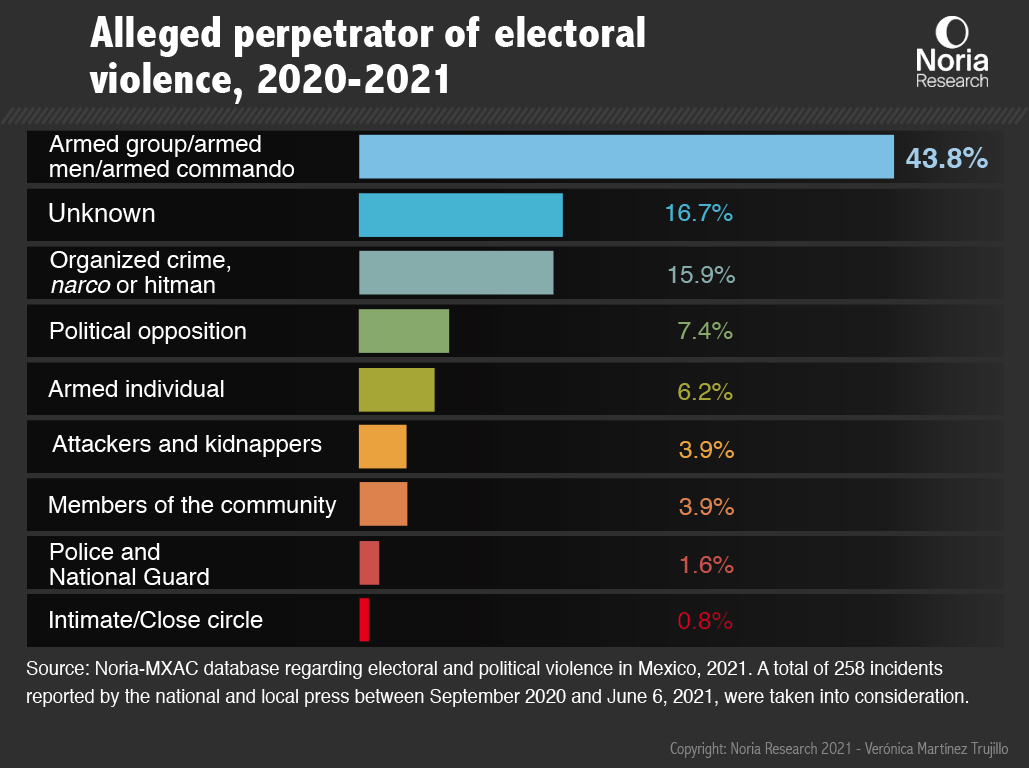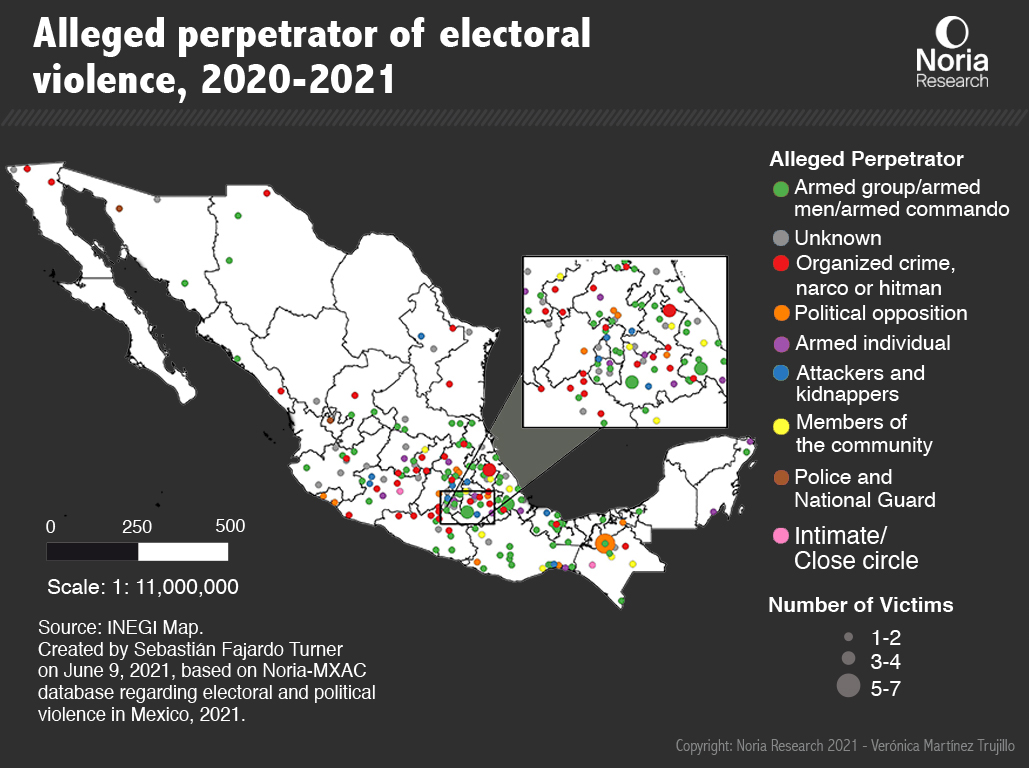 Incidences registered on election day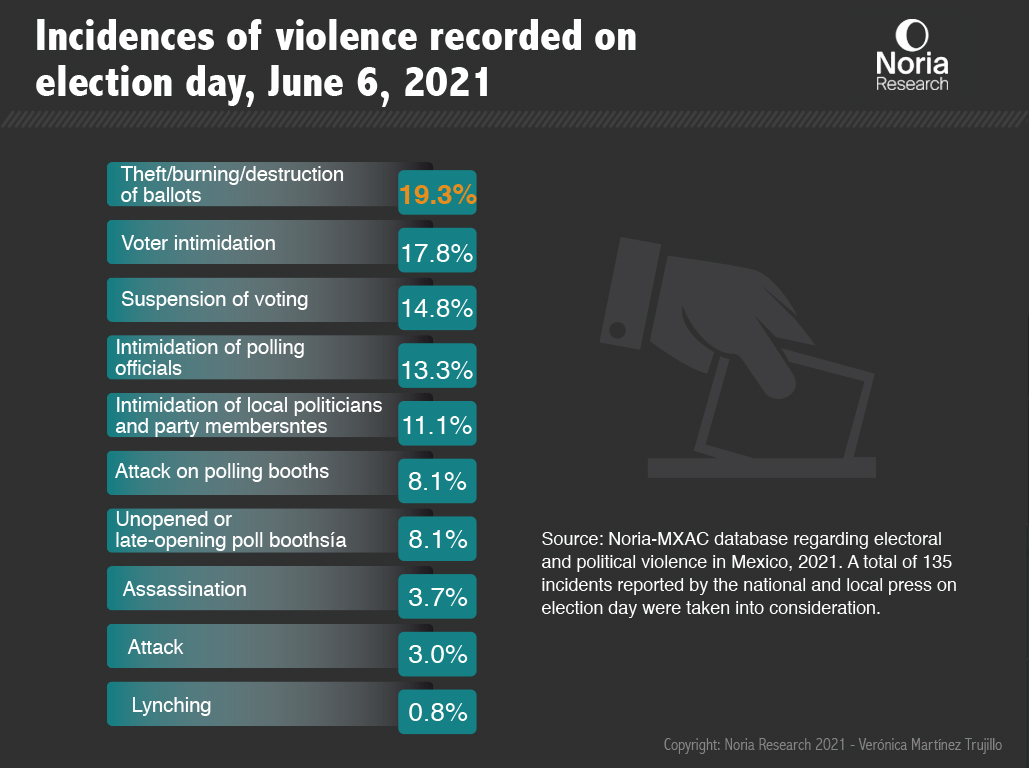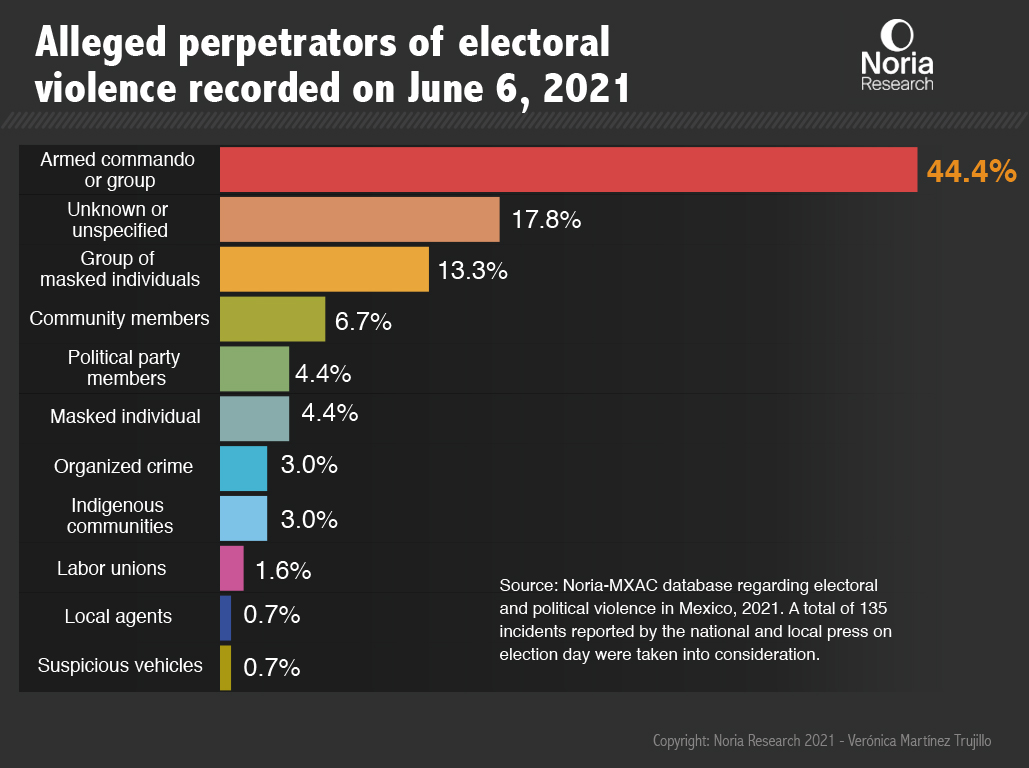 This data is part of the Elections and Violence in Mexico Project
Graphic Design by Verónica Martínez Trujillo
Click here to read our Policy Report on Candidates Protection Protocols in Mexico
Click here to go back to the Project's main page
María Teresa Martínez Trujillo is a Professor-Researcher at Tecnológico de Monterrey, Campus Monterrey. She holds a PhD and a Master's degree in Political Science from Sciences Po, Paris.